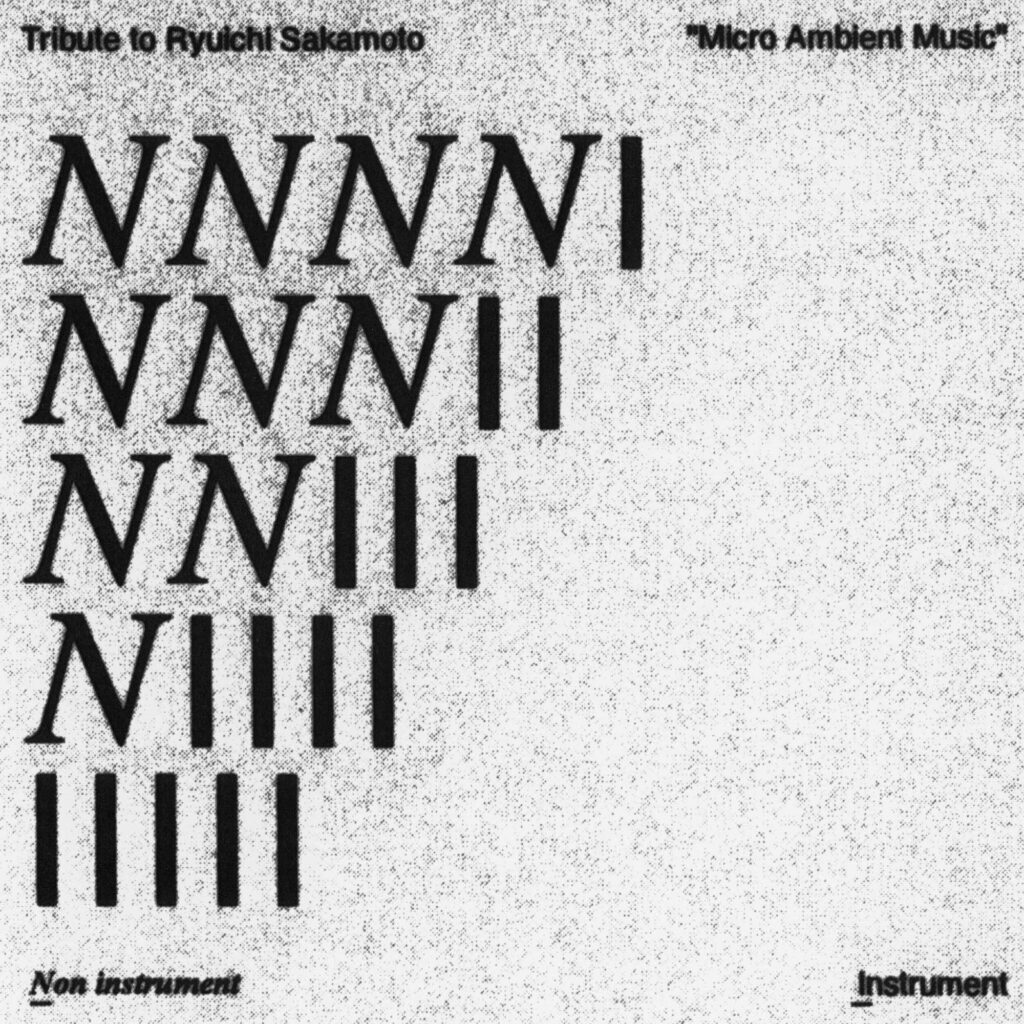 Tribute to Ryuichi Sakamoto
"Micro Ambient Music"
Limited release until October 2023
A compilation album of songs provided by musicians from Japan and abroad as a memorial work to Ryuichi Sakamoto's "Micro Ambient Music" (music that brings silence using non-instrumental sounds). Limited release for 3 months.
A portion of the proceeds will be donated to Trees For Sakamoto (https://trees4skmt.org/) Participating.
All Tracks (3:56:41)
  This compilation is a memorial album for Ryuichi Sakamoto by musicians and collaborators who were close to him from 2000 to his later years. This is realized with the support of 41 musicians from Japan and abroad. We called the music "Micro Ambient Music," which uses non-instrumental sounds to bring silence and serenity to the listener. This memorial disc was created by Ryuichi Sakamoto's label mates at New York's "12K" label, which also released Sakamoto's music.
  This is a memorial work by musicians who are not on any label, but are self-released. Although Ryuichi Sakamoto's reputation has focused on YMO and the Academy Awards, the true value of his life and music can be also seen in his later works. This memorial disc focuses on musicians who were close to Ryuichi Sakamoto, especially in his later years. This memorial disc is a transition from music centered on non-instrumental sounds to music centered on instrumental sounds. The memorial sounds were arranged in a natural, peaceful, and inevitable harmony, as a single work.
  Like one's own breathing, which takes place constantly, if one is aware of it, there is a discovery of beauty, and if played in the background of one's life, it brings tranquility and calm.
The more you listen to this 5-disc set, 3 hours and 56 minutes long, the more it sinks in. The sound that Ryuichi Sakamoto left behind will continue to spread from here.

Art work : Rikako Nagashima (village®)
Web design : Yukico Shinoda
Planning and production :Tomoyoshi Date
Cooperation : KAB inc., Commmons
All Tracks (3:56:41)
1/5 – 5/5 Track List
1/5 NNNNI (1:01:29)
01.Tetuzi Akiyama / Transparent Encephalon (07:07)
02.Otomo Yoshihide / Moonless Night (05:50)
03.Sachiko M / to the sunny man (05:40)
04.Toshimaru Nakamura / nimb#75 (04:52)
05.David Toop / Hearing Cries From the Lake (07:06)
06.Rie Nakajima and David Cunningham / Slow Out (06:02)
07.Lawrence English / It Is Night, Outside (04:35)
08.Kazuya Matsumoto / ice (06:54)
09.Shuta Hasunuma / FL (05:02)
10.Takashi Kokubo / Rainforest soloist (08:16)

2/5 NNNII (43:00)
11.Miki Yui / Hotaru (06:50)
12.Tomoko Sauvage / Weld (05:36)
13.Christophe Charles / microguitar (09:36)
14. Alva Noto / für ryuichi (03:49)
15.Yui Onodera / Untitled #1 (04:37)
16.Marihiko Hara / extr/action (07:00)
17.ASUNA / Elephant Eye (05:30)

3/5 NNIII (39:28)
18.SUGAI KEN / Swallow & Electronic Swallow(2023 Rainy Season) (01:41)
19.Hideki Umezawa / Sculpting in Time (05:37)
20.AOKI takamasa / UKIYO 浮世 (08:56)
21.Stephen Vitiello / Motionless Wings(06:33)
22.Sawako / Tokyo Rain Forest 35°40'25"N 139°45'21"E (03:44)
23.Tujiko Noriko / I'll Name It Tomorrow (05:13)
24.ILLUHA / Gratitude (07:42)
4/5 NIIII (39:50)
25.Christopher Willits / Study for Sakamoto (March 2023) (03:56)
26.Tomotsugu Nakamura / backword to blue (03:37)
27.Kane Ikin / Pulsari (05:49
28.Bill Seaman / Tears Namida 涙 (06:01)
29.Tomoyoshi Date / Placement Of The Drops (06:02)
30.Federico Durand / Alguien escribió su nombre en el vidrio empañado (04:23)
31.Marcus Fischer / Overlapse (05:51)
32.Taylor Deupree / A Small Morning Garden (04:09)
5/5 IIIII (50:54)
33.Ken Ikeda / Circulation (05:25)
34.Chihei Hatakeyama / Mexican Restaurant (08:18)
35.Stijn Hüwels / Shinsetsu (08:08)
36.hakobune / hotarubune (05:19)
37.Ian Hawgood / Morning / Evening Context (08:34)
38.Nobuto Suda / A memorial piece for Ryuichi Sakamoto (05:47)
39.The Factors / 0601am Rain Forest (09:21)