Tomotsugu Nakamura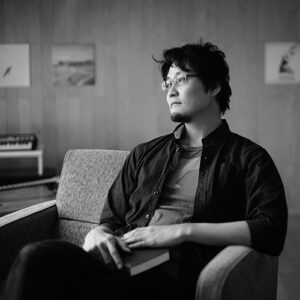 Profile
  Sound artist living in Tokyo.
  He is highly popular for his unique sound, which is played by simultaneously processing the sound of instruments and field recordings, and has released works on domestic and overseas labels such as LAAPS (France). In recent years, he has also worked on creating spaces such as galleries and reading cafes with the theme of music and sound.
Bandcamp
  https://tomotsugu.bandcamp.com
Instagram
  https://www.instagram.com/tomotsugu_n/
Twitter
  https://twitter.com/tomotsugu
Music
  backward to blue
Comments
A long time ago, when I watched the movie "Tony Takitani" directed by Jun Ichikawa, I carefully watched the end credits of the wonderful visual and beautiful story. I wanted to know who composed the beautiful, serene music that played throughout the film.
The words "Music: Ryuichi Sakamoto" appeared on the dark screen. I had always been struck by Mr. Sakamoto's music, but I had never felt the greatness as much as at that time. Afterward, I heard that Director Ichikawa's offer was, "Please make music that leaves an impression so thin that you can't even tell it's flowing." It penetrated deeply into my heart.
It is truly a great honor to join this memorial tribute album, and I came to think about what kind of music Mr. Sakamoto was working on. I decided to aim for the theme that I would have had – something beautiful that sounds in a place where there is no distinction between sound and music. Speaking of Mr. Sakamoto, the piano sound was impressive, so I started with the piano. Also, while presumptuous, I sampled only two notes of the piano from the soundtrack "bottom" and "harmonics1" of "Tony Takitani". I would like to express my condolences for the many impressions I have received from him all the time.