The Factors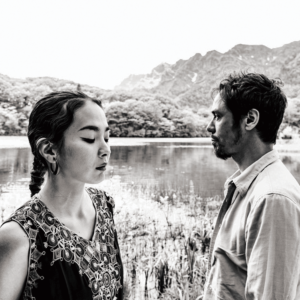 Profile
  Formed in 2013 by SAKi [Singer song writer] and JodyTenku [Guitarist / Composer].
  They have been playing from street corner cafes to big festivals in Japan and abroad with the theme of love and revel music that asks questions to people's hearts. He has released 4 albums and 2 vinyl EPs (produced by Kenji Jammer & K.U.D.O.) They performed at the Avalon Stage at Fuji Rock festival in 2017, performed at Burning Man, the largest art festival in the U.S., and toured the west coast in 2018.
  The band's superb soundscape is a combination of their genre-defying performance style and their clear, warm, and beautiful voices, which are freely manipulated in both electric and acoustic styles.
  In recent years, they have collaborated with Ayurveda artists, provided music for CM and videos, and since 2021, they have hosted regular monthly events at their base in Nagano, Iizuna Kogen [ Healing Music Lab. ] In 2022, In 2022, they will release "Redenico" and plans to tour Asia this winter just after this Japan tour.
2013
  Formed SAKi & the Factor
2014
  In charge of the music for the snow boarding movie "In My Life" supervised by mdm productions Ranran
2015
  Released 1st album "Tree of Life" / PV for Iiyama Forest Therapy [appeared and provided music]
2016
  Released 2nd album "Cosmic flight" / Kita Karuizawa Sweet Glass "Fireside cottage" PV [appearance, music provided]
2017
  3rd album "Quiet Sun" released
  Appearance at Fuji Rock Festival'17
  The 50th Iinawa Fire Festival 2017 @Ozahoshi Pond [Dedication performance]
  Japan Independent League Grand Championship Official Match of Shinano Grand Serows held at Nagano Olympic Stadium [national anthem singing/live performance]
  Asian tour
  TENCOOJIN, a unit with the theme of 528KHz tuning, Tenkawa Dai Benzaiten Shrine Annual Festival Yoimiya Festival [Sound Spirit Dedication]
2018
  Nagano Lantern Festival 2018 [Commercial music provided / Dedicated performance]
  Performed at Burning Man, America's largest art festival, and toured the West Coast
  Kenji Jammer & K.U.D.O Produce 1st Vinyl Release His 7inch "Kirigamine"
2019
  Renamed from SAKi & the factor to The Factors
  Kenji Jammer & K.U.D.O Produce 2nd Vynal EP 12inch "Lindo" released
2020
  4th album "Edenico" release
2022
  4th Edenico remix full album "Redenico" release
  With two works, "Edenico" and "Redenico", the "Edenico Redenico Release Tour" started in July last year and successfully completed a tour of 60 locations nationwide, including Fuji Rock Festival '22, in five months.
Music
  0601am Rain Forest