Stephen Vitiello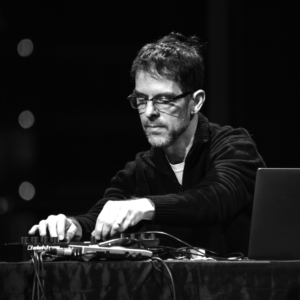 Profile
  Stephen Vitiello is an electronic musician and media artist. His sound installations and multi-channel works are in the permanent collections of the Museum of Modern Art, the Whitney Museum and the Museum of Contemporary Art, Lyon. Recent exhibitions include a site-specific project for a space built in the 4th century in Poitiers, France as part of the exhibition,Traversées – Kimsooja. CD and LP releases have been published by numerous labels, including New Albion, Sub Rosa, 12k, and Room 40. Over the last 25 years, Vitiello has collaborated with such artists and musicians as Pauline Oliveros, Ryuichi Sakamoto, Taylor Deupree, Joan Jonas, Tony Oursler, Steve Roden and Robin Rimbaud/Scanner. Originally from New York, Vitiello is now based in Richmond, VA where he is a professor of Kinetic Imaging at Virginia Commonwealth University.
  photo by Olga Kisseleva
Music
  Motionless Wings
  Stephen Vitiello, 2023
Comments
  I was fortunate enough to perform with Ryuichi Sakamoto for two sets at The Stone in New York City in 2012 and then again at the Smithsonian American Art Museum in 2013. The Smithsonian performance was part of a tribute to Nam June Paik. This piece submitted for the Memorial Board for Ryuichi Sakamoto is my own small tribute to the elegance of Mr. Sakamoto and the beauty of his work. I used an acoustic guitar from the year of my birth – prepared with alligator clips, a toy stick and some leaves. I later added a bit of very simply played piano.