ILLUHA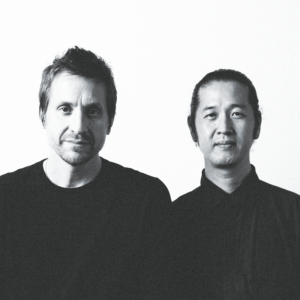 Profile
  Tomoyoshi Date and Corey Fuller, both currently residing in Japan, met in 2006 through their mutual friend and collaborator, Chihei Hatakeyama when Fuller was invited to play a show with Opitope in Tokyo. Living in separate places at the time (Date in Tokyo, and Fuller in Bellingham, WA) the two began collaborating when Date first visited the Pacific Northwest in 2008. Since then they have gone on to release several albums on 12k including Shizuku, Interstices, Akari and Perpetual with Taylor Deupree and Ryuichi Sakamoto. Their new album is due for release this fall on 12k.
Tomoyoshi Date
  Born in Sao Paulo, Brazil in 1977. Lived there until the age of 3, and grew up in Narita after returning to Japan. He is a doctor and musician. From around the age of eight he began deconstructing rhythms and melodies using live instruments and electronic equipment. Starting with Tomoyoshi Date, he has released 23 full-length albums around the world with units such as Opitope (w/Chihei Hatakeyama), ILLUHA (w/Corey Fuller), and Melodia (w/Federico Durand). After graduating from Nippon Medical School, he studied Kampo medicine and tumor vaccines at the university's Immunology Laboratory while engaging in tertiary emergencies as an emergency physician. Since 2010, he has opened "Tsuyukusa Clinic", which combines Eastern medicine (Chinese medicine and natural salt) with Western medicine. From 2021, he will also open "Tsuyukusa ONLINE", which aims to handle everything from crude drug cultivation to Chinese medicine manufacturing and prescription. He is searching for the way of medicine and art. He also writes various serials, writes and radio activities. Author of "Body and Mind Environment" (eleking-books)
Corey Fuller
  Born in the US and raised in rural Japan, Corey Fuller is a musician, producer and multimedia artist currently based in Tokyo. Growing up between several different cultures and traveling extensively as a child have made geography, the sea and a sense of space, within and without, major components of Fuller's music. His work is a slow and gradual music composed of infinitesimal details comprised of processed and delicately treated instruments, electronics, field recordings, and other sound sources combined with a distinct melancholy and emotionality. In addition to his work as a solo artist, Fuller finds his collaborations with other artists invaluable. Known for his work as Illuha with Tomoyoshi Date on 12k, he has collaborated with musicians Taylor Deupree, Ryuichi Sakamoto, Richard Skelton, Simon Scott, Stephan Mathieu, Marcus Fischer, Chihei Hatakeyama, Synichi Yamamoto and others on a series of releases and projects. A descendant of polymath R. Buckminster Fuller. and Color Music theorist and artist Maud Maple Miles, Fuller continues the tradition of synergetic and synesthetic intermedia explorations through his collaborations with visual artists, choreographers, fashion designers, poets, filmmakers, architects and artists across a myriad of disciplines.
Music
  Gratitude
  Recorded at Tokyo and Narita in May, 2023
  Mixed by Tomoyoshi Date at Narita Famillia.
Comments
When I first heard the news of Ryuichi's passing it felt like a double punch to my heart/gut. I was still freshly grieving the loss of my wife and partner of 22 years who had only passed 3 months prior, and the loss of Ryuchi pulled those wounds wide open again. In many ways, their journeys were linked from the start as they were both diagnosed with cancer around the same time, and later as their diseases were found to have metastasized. Ryuichi and I had kept in touch after our performance together with Taylor Deupree and Tomoyoshi Date at YCAM, periodically checking in on each other, exchanging New Year's greetings of hope, light and inspiration for the coming year, but mostly we spoke of music and sound. Ryuichi loved sound; as a phenomenon, as an elemental force, as a vehicle for emotion, beauty and truth. What left a lasting impression on me when I first met him was his childlike curiosity. After our soundcheck at YCAM, I remember him enthusiastically checking out and playing with each of our setups and gear as if he were a kid in a candy store. His music is infused with this childlike curiosity and wondrous exploration of sound, and he had the rare ability as an artist of being able to coax such shimmering beauty from it with integrity, grace and style. – Corey Fuller