Sawako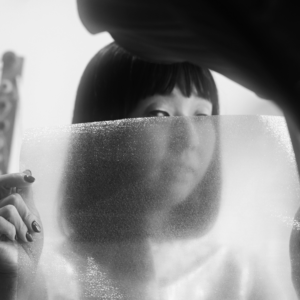 Profile
  Sawako is a sound sculptor and a signal alchemist who understands the value of dynamics and the power of silence. Once through the processor named Sawako, subtle fragments in everyday life float in space vividly with a digital yet organic texture. She weaves the poetic soundscape to fuse dream and awake, urban and nature, real and virtual.
  Sawako released 6 albums from 12k (USA), and/OAR (USA) and others. She has performed internationally as an audio and/or visual artist in MUTEK (Canada): Warm Up at P.S.1, Diapason, Le Poisson Rouge, Tonic, Issue Project Room, Roulette (NYC); Corcoran Gallery (Washington DC); UCLA Hammer Museum (LA); OFFF Festival (Lisbon); Interference (Italy); MACBA, Sonar Festival (Spain); Glade Festival, Resonance FM, ICA (UK); Offsite, SuperDeluxe, gift_lab (Japan). Her music is used in documentary films like Patagonia's "Treelines" and Gina Hara's "Geek girl."
  Sawako obtained a Master's degree in New York University's ITP. Born in Nagoya, Japan, studying the classical piano over 10 years and Japanese Nohgaku Theatre for 6 years when she was a child.
Music
  Tokyo Rain Forest 35°40'25"N 139°45'21"E
Comments
I had performed with Ryuichi Sakamoto in his radio program on the new year day of 2014. My first impression of improvising with him as duo is "the resonance is like a woods." The woods hold various life signals of tiny bugs and old huge trees for several generations, and like that, his sound includes micro and macro cosmos in the natural graceful way. It was really rare and fascinating feeling. At the same time, for me who is working on connecting urban and nature, it was really inspiring time.
The field recording sounds in "Tokyo Rain Forest 35°40'25"N 139°45'21"E" were recorded near the 400 years old tree in Hibiya Park, in the middle of Tokyo. It is the homage to Ryuichi Sakamoto who was doing the activities like More Trees. The Sho (Japanese traditional Gagaku instrument) is the recording of Yukiko Hayakawa, who is an organist to resonate the air of prayer everyday. With love and best wishes.