Ian Hawgood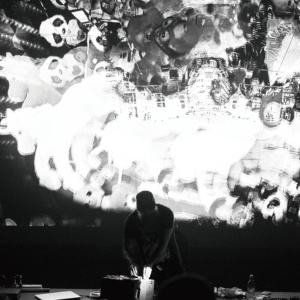 Profile
  Ian Hawgood is an ambient artist currently based near Brighton, UK.
  Originally starting out as a sound engineer and installation artist in London, he moved to Tokyo in 2001 as part of a band. The experience left an indelible mark as he bought his first synth (a Roland JP8000) and multi-track tape recorder (a Fostex X18) that he used to record long-form ambient music late at night after work and to aid his insomnia. This evolved as he moved into mobile work on his X18, recording music in the local park at night and in music shops around the city.
  After moving back to London to study sound technology, he started to bend his own synths, work on installations and in studios for broken gear he could fix at home. This led to a love of old tape machines which he used to create soundscapes for various projects, alongside his electronic music as Koen Park.
  His music has appeared as a solo and collaborative artist on labels such as Morr Music, 12k, Dragon's Eye, Infraction, Dauw, IIKKI, Preco, Fluid Audio, Quiet Details, Archives, Pyramid Blood, Hibernate, Slaapwel, Polar Seas, Experimedia, and many more. He is the founder and producer of the post-classical Black Elk group and electronic-ambient outfit Tiny Isles, and is the founder of the Home Normal, Nomadic Kids Republic, Tokyo Droning, and KOMU (Koen Music) labels which he ran from his home in Tokyo until 2016 before moving to Poland, then eventually back to the UK where he currently resides.
Music
  Morning / Evening Context
Comments
This piece was recorded with processing of different synth and mellotron elements through a Ciat-Lonbarde Cocoquantus modular system alongside field recording loops taken locally from the beaches where we live. The elements were recorded last year but mixed together after an 8 month period without creating new music, giving me a chance to take my battery-powered modular system out to record details from the local environment.
On a personal level, my first experience of Ryuichi Sakamoto's work was as an actor in 'Merry Christmas, Mr Lawrence' and then 'The Last Emperor', which contained themes and concepts I couldn't fully understand at such a young age. It wasn't until many years later that I came to understand the music to both had been written by Ryuichi Sakamoto and quite apart from these melodic structures sticking for so many years after, was the uniqueness of cool naturally imbued in his work and person that resonated with me.
That his music and personality was so open to work with friends and connections is deeply humbling, and work such as 'async', the remarkable soundtrack to 'The Revenant' and his recent work for 12k are a true inspiration of creative energy for artists of all ages.
This piece is my own attempt to respect the minimalism and pure focus of Ryuichi Sakamoto's music, with a personal, fun and nostalgic glance at his beautifully resonant works as an actor and composer that I experienced as a child and which left such an indelible mark all these years later.
With love, respect and deep appreciation.