Takashi Kokubo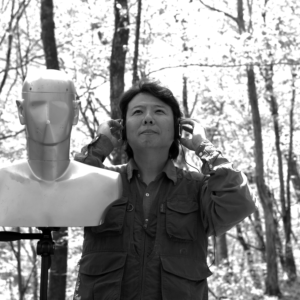 Profile
Born 1956 Environmental musician, sound designer, media producer President of Studio Aeon Inc. Part-time lecturer at the Open University
Sound designer known for the 'wee, wee, wee' mobile phone earthquake early warning alarm sound, the iD e-money signalling sound and the early music for docomo's Melody Call. He has also worked on environmental music for the Roppongi Hills Arena, sound environment design and time signal music for the Queen's Square Yokohama mall, and the Yokohama City Sound Logo. In recent years, Japanese ambient music from the 1980s has attracted international attention and offers for re-releases from the UK, Switzerland, Denmark and other countries. The USA compilation album "KankyoOngaku: Japanese Ambient, Environmental & New Age Music 1980-1990", which includes some of Kokubo's music, was nominated for a 2020 Grammy Award (Best Historical Album category). Nominated for a 2020 Grammy Award (Best Historical Album). The "Hatsumimi Alarm", a wake-up alarm that theoretically can wake anyone up comfortably, was produced for a TV programme and ranked high on the iTunes download site. featured the 'Earthquake Early Warning Sound' on the popular NHK programme 'Chiko chan ni scoldareru!'
Focusing on the power of nature to heal the human mind, she composes relaxation music that gently resonates with the modern mind. In a private studio in Mukawa, Yamanashi Prefecture, which is blessed with nature, he creates music using a microphone he developed called Cyberphonic, which can record three-dimensional sound, with a theoretical background in high-frequency noise, 1/f fluctuation and brain wave measurements, which have a relaxing effect on the brain. In recent years, he has been working not only with sound but also with nature images, and has visited more than 50 countries and regions for recording. 2014 provided the nature sound track 'Interlude' for EXILE ATSUSHI's second solo album 'Music', and the track was included in his third solo album 'Love Ballade'. In 2022, his private studio (Sage Studio) will be immersed and renewed. The studio is now 7.1.4ch Dolby Atmos-compatible and live streaming is now possible.
While working as a sound designer who 'designs environments with sound (music)' for public spaces such as cities, offices and museums, he is also active as an artist who provides healing music for private spaces. In 1999, she launched the 'Aeon Label' and has released 23 titles to date. In September 2007, she released her best album Quiet Comfort, the culmination of 20 years of work. In 2009, the 10-title 'Poetry of the Earth' series, featuring nature sounds from around the world, was completed. In 2013, Della, a leading seller of relaxation and healing CDs, released 'Water Healing', in 2014 'Healing Forest – Finland (CD+Blu-ray)', which was produced with music and video, and in 2016 'Forest Healing'. In 2016, she released 'Forest Healing'.
In recent years, he has also focused on video production as a media producer, working on 360° panoramic films, and in 2014, his 'Nature Mandala: World of Harmony' won the Special Jury Prize at the 5th International Science Video Festival's Short Programme Contest. He also leads a music production group called G-rush, which has produced a number of game music works that use sound to create a world view, such as 'Elemental Monster' and 'Tengai Makyou ZIRIA' (both by Hudson).
Music
Rainforest soloist
Comments
[ About the music ]
This is a bird call from the rainforest recorded during a field recording trip to the jungle on the island of Borneo in 1996.
I recorded it with a self-made binaural microphone called Cyberphonic.
I did not do any musical production, it is completely natural environmental sound.

[ Memories of Sakamoto-san ]
I participated as a composer in the music production for "THE FANTASY OF LIGHT & LIFE" EXPO'90/Osaka Flower Expo Electric Power Pavilion in 1990, and since then I have worked on "Infinite Escher", the Nagano Olympics in 1998, the 1989 role-playing game " I also assisted in the production of the role-playing game 'ZIRIA' in 1989.
What has left a great impression on me is not only his musical talent, but also the way he organises his schedule. Every month, he always had two "STUDY" days in his schedule, which he would use as important days to hone his sensibility by not working on those days. My impression was that the 'natural genius' was Haruomi Hosono, and the 'striving genius' was Ryuichi Sakamoto.