Rie Nakajima and David Cunningham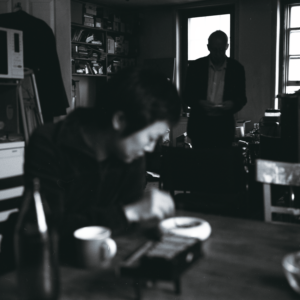 Profile
  Rie Nakajima is a a sculptor living in London. She has been working on creating installations and performances by responding to physical characters of spaces using combination of motorised devices and found objects. Fusing sculpture and sound, her artistic practice is open to chance and the influence of others. She has exhibited and performed worldwide. Her first major solo exhibition was held at IKON Gallery in Birmingham in 2018. She has also collaborated with Museo Vostell Malpartida (Cáceres), Tate Modern (London), Serralves Museum (Porto), ShugoArts (Tokyo), Hara Museum (Tokyo), The Wattis (San Francisco) and Cafe OTO (London). Her frequent collaborators includes Keiko Yamamoto, Pierre Berthet, Marie Roux, Billy Steiger, David Toop, Akira Sakata among others.
  David Cunningham is a record producer and musician who has worked with an eclectic range of people and music – The Flying Lizards, This Heat, Michael Nyman and O Yama O amongst many others.  His work has included music for film, television, contemporary dance and many collaborations with visual artists.  His installation works explore the real time experience of the acoustic qualities of a space – locations have included Chisenhale Gallery London, Ikon Gallery Birmingham, Tate Britain and ICC Tokyo.  Born 1954 in Ireland, David Cunningham lives and works in London.
  http://www.stalk.net/piano/dcbio.htm
  photo credit © Marie Roux
Music
  Slow Out

  Recorded in London, May 2023. Rie Nakajima – objects, David Cunningham – live processing and treatments